Stacey Read - The New Brunswick Old Time Fiddle Co.
Stacey Read is born and raised in Sackville, NB; a Canadian champion old time fiddler and graduate of Berklee College of Music in Boston. Her family is 7th or maybe 8th generation business owners in Sackville and she teaches over 45 young talents the tradition of step, piano and fiddle from our region. She is a fab Mom and wife and an incredible baker.
1-506-224-0411
Director of Operations | Co-Creator
Shelley Chase - Garrison Hill Entertainment
Shelley Chase has produced and managed shows for everyone from Great Big Sea to Gene Simmons and has lived in Sackville for 7 years despite having a Newfoundland phone number . She is a double ECMA nominee for her music, an ECMA winner for manager of the year and a Canadian Folk Music nominee for her work with children. She has a Westie puppy and a ridiculous techno-colour flower garden.
1-709-691-4751
Artistic Director | Co-Creator
Shelley and Stacey have worked and performed together for over 20 years around the world, but never in Sackville and never in a pandemic. Both Shelley and Stacey have struggled with the loss of work, loosing countless contracts during COVID, despite being music industry veterans. This is why they started Levee on the Lake.
 leveeonthelake@gmail.com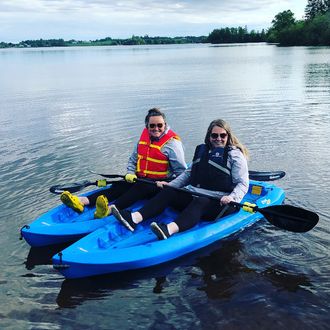 Stacey Read - The New Brunswick Old Time Fiddle Co. 
Stacey Read est née et a grandi à Sackville, au Nouveau-Brunswick. Elle est championne canadienne de violon traditionnel et diplômée du Berklee College of Music de Boston. Stacey vient d'une famille d'entrepreneurs: elle fait partie de la 7e ou 8e génération à établir des entreprises à Sackville, en plus d'enseigner la tradition du step, du piano et du violon de la région à plus de 45 jeunes. Elle est maman, épouse et boulangère incroyable! 
1-506-224-0411 
Directrice des opérations | Co-Créatrice 
Shelley Chase - Garrison Hill Entertainment 
Shelley Chase a produit et géré des spectacles pour de nombreux artistes connus, de Great Big Sea à Gene Simmons. Elle habite à Sackville depuis 7 ans même si son numéro de téléphone porte toujours l'indicatif régional de Terre-Neuve. Shelley a été nominée à deux reprises au ECMA pour sa musique, et a été lauréate d'un ECMA dans la catégorie Gérant/Maison de gérance de l'année. Elle a également obtenu une nomination aux Canadian Folk Music Awards pour son travail et son album pour enfants. Shelley a une petite chienne Westie et un magnifique jardin aux fleurs multicolores! 
1-709-691-4751 
Directrice artistique| Co-Créatrice 
Shelley et Stacey travaillent ensemble depuis plus de 20 ans et ont donné des spectacles à travers le monde mais jamais à Sackville et jamais en temps de pandémie. Elles ont été affectées par la perte de travail et de nombreux contrats lors de la pandémie de COVID-19, bien qu'elles soient des chevronnées de l'industrie musicale. C'est pour cela qu'elles ont créé Levee on the Lake!